On September 21st, 2018, Jiecang Linear Motion(Stock Code:603583) officially listed on A-share market in Shanghai Stock Exchange. Jiecang is the 10th listed enterprise in Xinchang county. Party member of Shaoxing Government Shao Quanmao, members of Xinchang Government Li Ning, Qiu Ziping, Luo Guoan and Qiu Wuhong, Jiecang Chairman and General Manager Hu Renchang and Lu Xiaojian were present.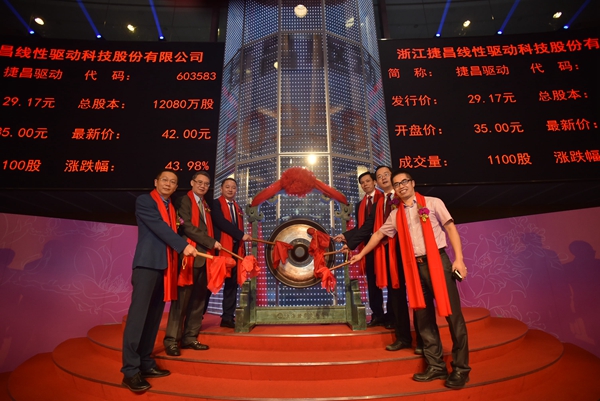 "Three, two, one, zero!" At 9 thirty, Shao, Li, Hu and Lu struck the gong. LED screen displayed "N Jiecang". Issue price of Jiecang Linear Motion is ¥29.17, and opening quotation is ¥35. It increased by 43.98% to ¥42 in a instant.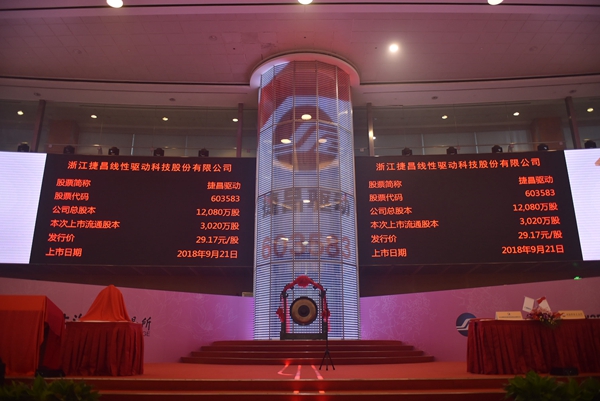 Jiecang has about 120.8 million capital stock in A-share market and listed capital stock is about 30.2 million. Raised fund about 881 million would invest in 4 projects: construction of Healthy Industrial Park and production lines which have annual yield about 250 thousand.
Jiecang was founded in 2000, and has become a professional high-tech enterprise specializing in R&D, production and sales of intelligent linear motion control system as well as the standard setter in DC linear actuator industry domestically. Now our products have wide applications in medical care, smart office and smart home. From January to July in 2019, Jiecang has achieved operation revenues of 557 million, increased by 51.29% compared to the same phase in 2018.